Ingredients
3 – 15oz can whole corn
1 small onion diced
1T garlic minced
3 celery stalks chopped
2 carrots chopped
1 green pepper chopped
1 jalapeño chopped
1 green onion chopped
1 bay leaf
2 t Cajun seasoning
1 t basil
4 c chicken broth
16 oz. imitation crab
1 – 13.5 oz. lite coconut milk
1/2 t salt
1/4 t pepper
Avocado (optional)
Drain corn and arrange it on a baking sheet.  Broil until the corn is golden brown about 20 minutes. Stir occasionally.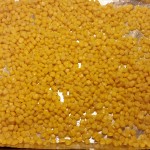 Sauté onion and garlic in a large soup pot.  Add carrots, celery, green pepper, jalapeno, green onion, corn, chicken stock, bay leaf, Cajun spice, and basil.  Cover and simmer for 30 minutes.
Remove bay leaf.  Blend soup with an emersion blender or in batches in a regular blender.  Return blended soup to the pot.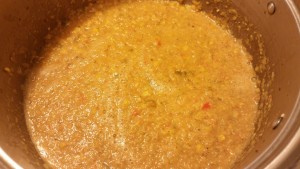 Add coconut milk, crab, salt and pepper.  Cover and simmer for another 20 minutes.
Serve with avocado slices.