Chocolate mint cake is the perfect end to a St. Patrick's Day celebration with corned beef, cabbage, and potatoes.
The mint flavor is light and compliments the chocolate.  You can add more if you like a stronger mint flavor.
In addition to the delightful flavor, the colorful layers will impress your guests.
Ingredients
1 package devil's food cake mix
1 package white cake mix
6 eggs
2 1/3 c water
3/4 vegetable oil
Green food coloring
1 1/2 t peppermint flavor or extract
1 container chocolate fudge frosting
1 8oz whipped cream
1- 3.5oz package instant vanilla pudding
1 c milk
Preheat oven to 350 degrees.  Spray two 13×9-inch baking pans with pam.  Line the bottom with waxed paper so the layers come out easily.
Chocolate layer
In a large bowl, combine chocolate cake mix, 3 eggs, 1 1/3 c water, 1/2 c vegetable oil and 1 t  peppermint flavoring.  Whisk until smooth.  A few small lumps are okay.  Pour the batter into one of the prepared baking pans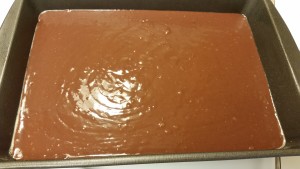 Green vanilla layer
In a large bowl, combine white cake mix, 3 eggs, 1 c water, 1/4 c vegetable oil and 10 drops of green food coloring(more or less to suit).  Whisk until smooth.  A few small lumps are okay.  Pour the batter into the other of the prepared baking pans.
Bake for 30-35 minutes or until a toothpick inserted into the center comes out clean.
Allow layers to cool completely.  Transfer to a cooking rack.
Once cool, prepare the filling and frosting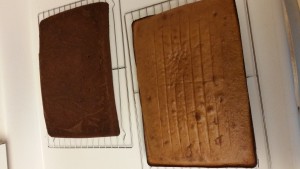 Chocolate Peppermint Filling
Mix 1/2t peppermint flavoring with the tub of chocolate fudge frosting

Frosting
Whisk together 1 c milk and the vanilla pudding mix.  Mix for about two minutes.  The pudding should start getting firm.  Gently fold in the whipped cream.  Stir until evenly mixed. Set aside.
Arranging the cake:
If needed, trim the top of the cake to make flatter.  It is okay if they are slightly rounded, but you don't want them so rounded that the cake is unstable.
Place the vanilla layer flatter side up onto a cake board.  This is the side that was the bottom when baking.  Spread the chocolate filling over the top of the green vanilla layer.  Do not cover the sides.
Carefully place the chocolate cake on top of the vanilla layer.  Use the rack to help hold the layer as you line up the edges and slide the cake into place.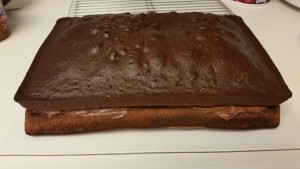 Trim the edges so the two layers are even.
Frost the entire cake with the whipped cream frosting
Decorate and refrigerate until ready to eat.