Wraps are quite filling even if they are filled with lettuce. I am not sure why.  The same amount of food on a plate or bowl doesn't seem to fill me up; but wrapped up in a hand held delivery system, I am full.  I have been eating a lot of sandwiches lately, so a wrap seems like a nice change.
Makes 6 wraps
Ingredients
1 lb. Chicken breast cut into strips.
1/2 t. onion powder
1/2 t garlic powder
1/2 t.  parsley
1 package BBQ Ranch chopped salad from Taylor farms*
6 wheat tortillas
Jalapeno honey mustard
Mix spices in a medium bowl.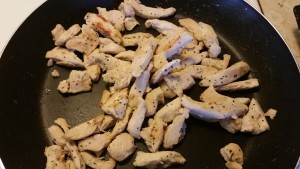 Add chicken strips and stir to coat.  In a large skillet over medium heat, cook the chicken until no longer pink.
While chicken is cooking prepare the salad.  Mix thoroughly.
To make the wraps, spread 1 tablespoon of mustard
in the center of the tortilla.  Place 1/6th of the salad in the center and top with 1/6th of the chicken.  Fold three sides of the tortilla over the filling and roll toward the remaining side.
Enjoy.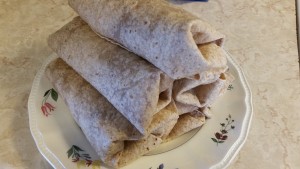 * If you cannot find Taylor Farms prepackaged salad, you can substitute:  1 cup Romaine lettuce, 1 cup broccoli slaw, ¼ cup red cabbage, ¼ cup savoy cabbage, 2 Tablespoons green onion, 2 tablespoons shredded carrots, ¼ cup tortilla chips broken into pieces, 1 tablespoon bacon, 2 tablespoons BBQ sauce and 2 tablespoons Ranch dressing.