Very similar to an alfredo sauce.  The delicate cream sauce is enhanced with spices and compliments the light flavor of lobster.  I use imitation lobster for budget reasons and it turns out delicious.  You may use real lobster too.
Ingredients
2 T butter
2 T whole wheat flour
2 c fat free half and half or milk
1t garlic powder
1 t onion powder
1T parsley
1 t dill
1 t thyme
1 celery stalk- chopped
1 c spinach
7 oz. lobster
1/4 c parmesan cheese
Thin wheat spaghetti
In a sauce pan over medium heat, melt butter.  Add flour and stir to make a paste.  Slowly add half and half stirring constantly so mixture does not clump.
Add garlic, onion powder, dill, thyme, parsley, salt and pepper.
Bring to a low boil. Add parmesan cheese.  Stir to melt and thicken.
Add celery, lobster, and spinach.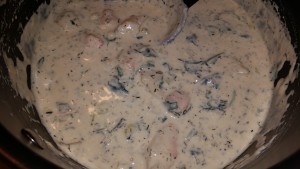 Serve over spaghetti noodles or ravioli.