Simple fool-proof way to make moist delicious salmon.  The foil traps in the juices to infuse the fish with flavor and keep it from drying out.
Ingredients
5 lbs. salmon
1 t Salt
1 t Pepper
1 T Dill
2 T Parsley
1 Lemon thinly sliced
Preheat oven to 350 degrees.
Line baking sheet with foil and spray with cooking spray.  
Place salmon skin side down onto the foil.  Sprinkle salmon with salt, pepper, dill, and parsley.  Place lemon slice on top.
Cover the salmon with another piece of foil.  Crimp the foil edges together to make a sealed pouch.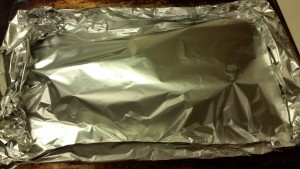 Place salmon in the oven and bake for 25 minutes.  Salmon is done when the inside is an even pink.
Serve with rice.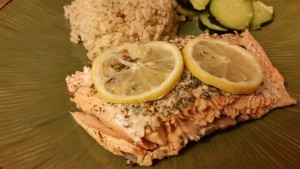 Pictured with brown rice and zucchini.