I really like chicken and rice.  Everything cooks together and the flavors mix to make a wonderful "gravy".  As an alternative to the stove-top directions below, you can use a crockpot and cook all day if you like, but I would recommend cooking the chicken prior to placing in the crockpot to avoid any risk of salmonella.
Ingredients
1 lb. chicken breast
1/ 2 c onion chopped
4 green onions chopped
1 c cilantro chopped
8 oz. mushrooms chopped
1 pint sweet peppers- stems and seeds removed
1-1/2 c  brown rice, uncooked
3 c water
2 c prepared salsa
In a large pot heat 1 T oil over medium-high heat. 
Add chicken and about ½ cup of water.  Cover and boil for 10 minutes. Cut the chicken to test for done-ness.  If chicken is not cooked through, boil for another 5-10 minutes.  If chicken is cooked through, remove chicken, set aside, and wipe the pot with a paper towel.
Heat another 1 T oil.  Add onion and rice. Heat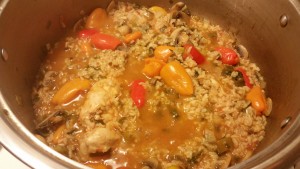 until onions are transparent and rice is white.  Add mushrooms and cook for one minute.  Add remaining ingredients including chicken.  Bring to a boil.  Cover and reduce heat to simmer. Cook for 45-60 minutes.
Remove chicken and shred into pieces using two forks.
Return chicken to pot and stir.  Check rice for done-ness.  The rice should be firm but not crunchy.  If rice is crunchy, continue cooking; you may need to add more water if the mixture is no longer runny or moist.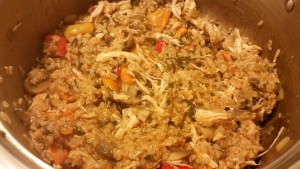 Serve with extra salsa, shredded cheese, sour cream, or sliced avocado.