Crab salad is similar to tuna salad or chicken salad, just with crab.  You can use it for sandwiches or tossed with pasta or even as an appetizer served with buttery crackers.  Here, crab salad is heated with rotini pasta to make a quick weeknight main dish meal.
Ingredients
6 oz. imitation crab
2 celery stalks
2 green onions
1/4 c mayonnaise
2 T pickle relish
1 t dill
1/4 c queso fresco or parmesan cheese
6 oz. rotini Pasta
Prepare pasta: boil water in a large pot.  Add pasta and return to boil.  Reduce heat and simmer for 9-11 minutes until pasta is fully cooked. Drain and set aside.
While pasta is cooking, chop crab, celery, and green onions into small pieces.  Combine mayonnaise, pickle relish, and dill in a medium mixing bowl.  Stir to an even consistency.  Add crab, celery, onions, and cheese.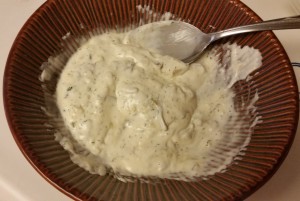 Heat crab mixture over medium low heat. Add pasta and stir to combine.  Heat until cheese is melted.