I don't make pork very often.  But when I am in the mood for a pork chop, this is the way I have to make it.  It does take a lot more prep-time and prep is much more messy then many of my recipes, but it is worth it.  The pork chops fuse with the breading in a delightful way, and the cream of mushroom-vine gravy is so good you will be tempted to drink it.
Ingredients
6 pork chops – 1.5 lbs.
2 eggs- beaten
Bread crumbs about 2 cups
1 small onion thinly slices
1 apple thinly sliced
2 t Thyme
2 t Garlic powder
1 can Cream of mushroom
1 c Dry Vermouth
Preheat oven to 350 degrees.  Prepare a baking dish by spraying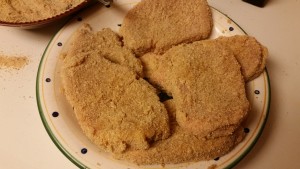 with nonstick cooking spray.
One at a time, dip the pork chops in the eggs. Then coat with bread crumbs.  Repeat- dip each pork chop in the egg and bread crumbs twice.
Heat 2 T oil in a skillet over medium heat.  Brown the pork chops about 5 minutes per side.
Place the pork chops into the baking dish. Sprinkle garlic powder and thyme on top. Cover with onion and apple slices.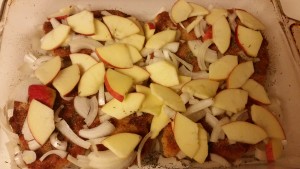 Cover with foil and bake for 30 minutes.
Mix vermouth and cream of mushroom soup.  Pour on top of the pork chops.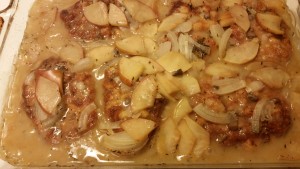 Return pork chops to oven and bake for an additional 30 minutes.
Serve with mashed potatoes (image above is pared with cauliflower mashed potatoes).