Packed full of vegetables and a spicy kick, this recipe hits the spot and leaves your mouth tingling.  If you have a heat sensitivity, you can add sour cream and/or lighten up on the cayenne pepper.  As an alternative to premade Cajun seasoning, I have included separate spices at the bottom of the recipe.
Ingredients
1 pound chicken cut into strips
1 green pepper cut into strips
1 red pepper cut into strips
1 onion cut into strips
1 T oil
1T Cajun seasoning*
1 T minced garlic
1/2 t cloves
1/4 t cayenne pepper
1 c Pineapple chunks
Heat oil in a large skillet on medium heat. Add chicken and sauté until no longer pink. Add onion, garlic, Cajun seasoning, cloves, and cayenne pepper. Sauté until onions are translucent. Add green and red pepper.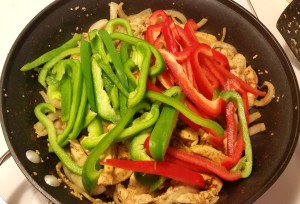 Sauté until pepper are soft. Add pineapple.
Serve with rice.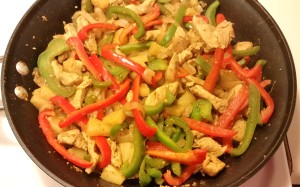 *note: the Cajun seasoning contains MSG, which I did not realize this until after I got home.  You can substitute the following spice mix for the premade seasoning.  Combine all of the  spices in a small bowl, mix, and add to the stir fry as directed.