Ingredients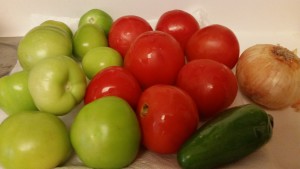 1 package white beans
8 cups water
8 oz. Tomatoes
8 oz. Tomatillos
1 small onion chopped
1 jalapeño chopped
1 lb. ground turkey
6 c chicken stock
1 T garlic minced
1 t paprika
1 t sage
1 t ginger
1 t oregano
1 t Salt
½ t Black pepper
½ t Cayenne pepper
Prepare beans as directed on package. I find the boiling method works the best:  Rinse beans.  Add about 8 cups of water to the beans and boil for 2 hours or until tender.  Strain and rinse.
Fire roast the tomatoes and tomatillos: Cut tomatoes and tomatillos in half. Gently squeeze the tomatoes to remove seeds and filling; strain the juice to add to the soup. It is okay to leave some of the seeds. Place the tomato and tomatillo halves on a baking sheet, and broil until skin is browned about 7 minutes. Let cool. Remove skin from tomatoes and dice.  Then dice tomatillos.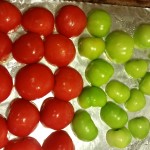 Brown turkey over medium heat. Add onion and garlic. Add jalapeño and spices paprika, sage, ginger, oregano. Add tomatoes and tomatillos. Stir. Add white beans and chicken stock. Bring to boil. Reduce heat and simmer on low for two to four hours. The longer it cooks the better it gets. Add salt, black pepper, and cayenne pepper.