With a desire to use up extra tomatoes and cucumbers, I searched for ideas and came across several recipes for gazpacho. Since I have never had gazpacho, and the pictures looked good I thought I'd give it a try. To   further complicate the afternoon, I decided to add empanadas as a  side to complement the soup. After all, why make one new dish when you can make two?
I had most of the ingredients for both dishes, so after a quick trip to the store for the missing items, I was ready to begin.
Beef and Black Bean Empanadas
Ingredients
Dough 6 c wheat flour
1-1/2 t salt
2 c shortening
1 c water
Filling
1 t Olive oil
1 pound ground beef
1 medium onion diced
1 T minced garlic
1/2 t salt
1- 15oz can black beans, drained and rinsed
1 t oregano
1t paprika
1 t turmeric
1 t mace
1/2 t pepper
4 oz. queso fresco
1 egg beaten (for brushing)
Dough: mix flour and salt in a bowl. Cut in shortening until the mixture forms small pea sized balls. Slowly add enough water until a soft dough is formed. Form the dough into a ball and refrigerate until ready to use.
Filling:

Heat oil in a skillet. Add onion and garlic. Sauté until onions are tender. Remove to a bowl. Add ground beef to the same skillet and cook until the beef is no longer pink. Add onion, beans, salt, oregano, paprika, turmeric, mace, and pepper. Remove from heat and refrigerate until ready to use.
Remove dough from refrigerator. Cut into 20-30 equal pieces. Roll each into a ball. On a flowered cutting board, roll each dough ball with a floured rolling pin into a round circle about 1/4″ thick.
Remove filling from refrigerator, add 4 oz. queso fresco. Place a scoop of filling into the center of each dough. Fold the dough over and pinch closed.
Brush egg onto the top of each empanada. Bake at 425 for about 20 minutes.
Gazpacho
2 containers grape tomatoes, diced
1 cucumber diced
1 green bell pepper diced
1 Red Bell pepper diced
1 small onion, diced
1 jalapeño seeded and diced
1celery stock
1T garlic minced
1 t oregano
1t basil
1/2 t salt
1/4 t black pepper
1T Worsceshire sauce
1T red wine vinegar
1 lime, juiced
1-8oz can tomato sauce
12 oz. cooked shrimp (optional)
Hot sauce (optional)
In a large bowl, combine one container of tomatoes diced, cucumber, green pepper, red pepper, onion, jalapeño, and tomato sauce. Mix.
In a blender, combine one container of tomatoes, celery, garlic, oregano, basil, salt, pepper, Worsceshire sauce, red wine vinegar, and lime juice. Blend until smooth. Strain mixture.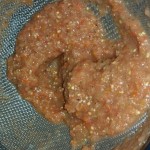 Pour the liquid over cucumber mixture and stir. Scoop about half
of the mixture back into the blender and blend but not purée to leave small chunks for texture. Pour the mixture back over the vegetables and stir. Add tomato sauce and shrimp; place the bowl into the refrigerator for two hours. Serve with hot sauce.