With the fourth of July right around the corner and summer in full swing, my cravings are moving to barbecued and picnic delights; which means grilled meats, sweat and tangy sauces, ice cold watermelon, and colds salads (pasta, potato, cabbage, bean, etc.).  This week I had the pleasure of cooking a pre-father's day celebration for the seniors at the apartments I manage.  On the menu, hot dogs, hamburgers, pasta salad, coleslaw, and angel food cupcakes for desert (recipes below).    I didn't make the hot dogs or hamburgers, but I got the best:  Hebrew National dogs and 100% Angus patties.  The salads were prepared 24 hours in advance; there is a lot of vegetable chopping.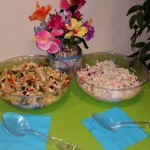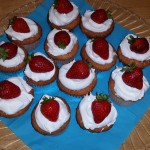 Veggie Packed Tri-Colored Pasta Salad
(8 servings)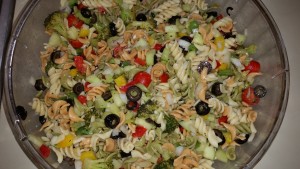 Ingredients
1 lb tri-colored spiral pasta
1 c broccoli florets, chopped
1/2 green bell pepper, chopped
1/2 yellow bell pepper, chopped
1/2 red bell pepper, chopped
1 (2 oz) can sliced black olives
1 small cucumber, chopped
1 small sweet onion, chopped
1 stock celery, chopped
1 c grape or cherry tomatoes, halved
1/3 c olive oil
1/3 red wine vinegar
1T garlic, minced
1T parsley
1.5 t basil
1.5 t oregano
1/2 t ground mustard
1/4 t salt
1/4 t black pepper
Bring a large pot of water to boil, add the pasta and cook as directed on the package.  Usually 8-10 minutes until al dente.  You can test the noodle by cutting one.  There should not be any white in the center.  Drain and rinse the noodles with cold water to stop the cooking.
Bring about 1/4 c of water to boil in the same pot.  Add the broccoli florets. Cover and steam for about 3 minutes.  Test the broccoli for doneness but poking with a fork.  The broccoli should be tender but not mushy.  Drain and rinse with cold water to stop the cooking.
In a bowl mix the olive oil, red wine vinegar, garlic, parsley, basil, oregano, mustard, salt, and pepper.  Whisk until blended for about two minutes.
In a large bowl, mix together cooled pasta, cooled broccoli, green bell pepper, yellow bell pepper, red bell pepper, black olives, cucumber, onion, celery, and tomatoes.  Pour 2/3 of the dressing mixture over the pasta mixture.  Stir to coat and chill overnight or at least 2 hours.  Pour the remaining 1/3 dressing over the salad in the morning or just before serving.  Note: if you like your pasta salad less "wet" then pour the entire dressing mixture over the pasta before chilling.
Classic Coleslaw
(12 servings)
Ingredients
1/2 c mayonnaise
1 T white sugar
2 T milk
2T buttermilk
2 T lemon juice
1 T vinegar
1/2 t ground mustard
salt and pepper to taste
10 c shredded cabbage
1 c grated carrots
1 small sweet onion, finely chopped
Whisk together mayonnaise, sugar, milk, buttermilk, lemon juice, vinegar, mustard salt, and pepper.
Toss the cabbage, carrots, onion, and dressing until evenly coated.  Refrigerate overnight or at least 4 hours.  Gently toss again before serving.
Angel food Cupcakes with Whipped Cream and Strawberries
(30-36 cupcakes)
Ingredients
1 box angel food cake
1-1/4 c water
whipped cream
36 strawberries
Preheat oven to 375 degrees.  Place cupcake wrappers into cupcake pan.  Beat angel food mix with 1-1/4c water. Spoon about 1/4 c of batter into each cupcake wrapper so it is 2/3 full.  Do not overfill.  The batter puffs up a lot and will overflow.  Bake for 10-15 minutes until the golden brown.  If you need to bake multiple batches, place the unused batter in the refrigerator.
Once cooled and before serving, place a dollop of whipped cream on top of each cupcake and a strawberry in the center of each dollop.  Enjoy.