(6 servings)
Use the largest wok or fry pan you have. There are plenty of vegetables in this dish, and they do cook down, so don't be intimidated by the volume of cut vegetables on your counter.
Ingredients
1 lb beef, cut into strips
2 carrots, cut diagonally
1 Chinese eggplant, cut diagonally
½ chopped red onion
2 c broccoli florets
3 c pea pods
1 (8oz) can sliced water chestnuts
2 small bok choy, chopped
2 T oyster sauce
2 T vegetable oil
2 cups brown or white rice, cooked
        Siracha (optional)
Marinade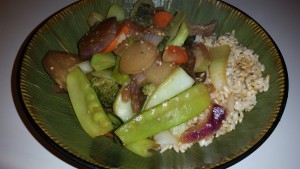 2 T soy sauce
4 T rice vinegar
1 T fresh ginger, grated or minced
1 T garlic, minced
1T sesame seeds
2 T cornstarch
Combine soy sauce, rice vinegar, ginger, garlic, sesame seeds, and cornstarch.  Stir until mixed.  Toss beef to coat.  Let sit 20 minutes or a few hours.
Heat 1T oil in a large skillet over medium heat.  Cook onion, eggplant, and carrots for about 4 minutes.  Add broccoli and cook for 5 minutes or until slightly crunchy.  Add pea pods, water chestnuts, and bok choy.  Cover and simmer until bok choy has wilted, about 4 minutes.  Transfer vegetables to a bowl.
In the same skillet, heat 1T oil on medium.  Cook beef about 2 minutes per side.  Return vegetables to skillet.  Stir and allow sauce to coat vegetables.  Cover and simmer for about 5 minutes.  Serve with rice and Siracha.