Meatloaf is one of my favorite meals.  My boyfriend likes the taste of meatloaf, but has a "fear" of onion "worms" popping out of the sea of meat.  I promised him that there would never be an onion worm in my meatloaf, so I started mincing the onion and any other large additive in a food processor.   This recipe is a holiday spin on traditional meatloaf:  instead of breadcrumbs, finely chopped pretzels and pecans add a nice flavor, and mustard is the main complimentary condiment instead of ketchup.
Ingredients
3 lbs. ground turkey
1 c. pecans
2 c pretzels
1 onion
2 cloves garlic
2 t thyme
1 T celery seeds
1 T prepared mustard
2 t marjoram
2 t sage
1 egg
2 t salt
1 t pepper
Glaze (optional)
½ c prepared mustard
2 T brown sugar
Preheat oven to 350 degrees, and prepare two loaf pans by spraying with nonstick cooking spray.
In a food processor, finely chop the pecans, but not to a powder.  Remove nuts to a mixing bowl.
Finely chop the pretzels, but not to a powder.  Remove to the same mixing bowl.
Finely chop the onion and garlic.  Remove to the same mixing bowl.
Add thyme, celery seeds, prepared mustard, marjoram, sage, egg, salt, pepper, and turkey.  Combine until thoroughly mixed.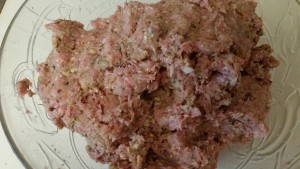 Divide the mixture evenly into two and place into the prepared loaf pans.
Optional: top with a glaze.  Mix mustard and brown sugar together and spread on top of each meatloaf.
Bake for 1 hour or until the center is fully cooked.
Featured image pictured with green bean casserole and cranberry pecan stuffing and gravy.