This recipe is an easy traditional egg salad sandwich; actually it is two easy egg salad sandwiches.  No frills and delicious.  If you like your egg salad less runny, reduce the amount of mayonnaise to 1 tablespoon.
Ingredients
3 eggs (hardboiled)
1 celery stalk – chopped
2 T onion chopped
2 T mayonnaise
1 t prepared mustard
Salt and pepper to taste
4 pieces of bread
Hard boil 3 eggs: place eggs in a pot and cover completely with water.  Bring water to boil and reduce heat.  Simmer for 20 minutes.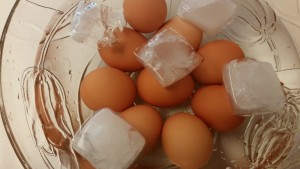 Gently pour water out of pot.  Carefully remove eggs and place then directly into a bowl of ice water.  Allow eggs to cool completely in the ice water.
Once eggs are completely cooled, crack and remove the shell.  Dice each egg into small pieces and then continue to mash with a fork until the egg pieces are small.  Add celery, onion, mayonnaise, mustard, salt and pepper.  Mix thoroughly.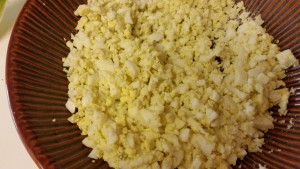 Divide mixture in half and place on two pieces of bread.  Top with another piece of bread.  Enjoy.