I am hesitant to call these German meatball because, they are not authentic German meatballs.  German meatballs are a simple mix of ground beef and ground pork mixed with parsley, onion, egg, paprika, salt, and pepper to make delicious flavorful meat patties.  In an effort to reduce calories, these meatballs use ground turkey, which leaves much to be desired in terms of flavor.  To compensate for the lack of natural meat flavor, these meatballs include loads of spices for a flavorful, savory bite.  And this recipe succeeds in creating a delicious meatball with hints of German flavors.
This recipe makes 5 dozen appetizer size meatballs.  The meatballs are flattened for more of a meat patty than a ball. You can easily cut the recipe for a smaller batch, make larger balls, freeze some for later, or even combine the whole batch into a loaf pan to make a meatloaf.
Ingredients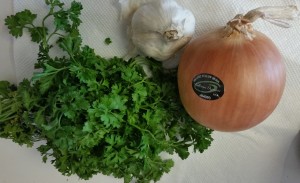 1 onion
3 cloves garlic
1 bunch of fresh parsley
2 t anise seed
2 t caraway seed
2 t celery seed
1T paprika ground
1 t mace ground
2 t salt
1 t pepper
3 lbs. ground turkey
2 eggs
Sweet Hot Mustard (optional)
Preheat oven to 350 degrees.  Prepare a baking sheet.
In a food processor, chop onions and garlic until fine.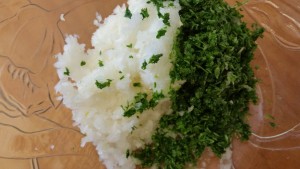 Remove onion and garlic to a large mixing bowl.  Mince parsley in the food processor until very finely chopped.  Remove parsley to the same bowl.
Add anise, cara
way, celery, paprika, mace, salt, pepper, ground turkey, and eggs to the bowl.  Mix until evenly combined.
Shape meat into flattened meatballs.  I like to use about 1-1/2 T of meat per ball, but you can make them larger or smaller to your preference.  Flatten the ball into a patty and place onto the baking sheet.  You can place the meat patties close together because they will shrink while baking.
Bake balls for 15 minutes or until no longer pink inside.
As an appetizer, serve with sweet hot mustard.  As a meal, serve of a bed of sauerkraut with sour cream and parsley potatoes.