This is pretty much the same recipe as the one listed on the can of French's fried onions.  The extra milk is omitted and the amount of green beans in increased.  This lightens the calories slightly, but still try to keep yourself from eating the whole batch.  Yes, these green beans are so hard to stop eating.
Ingredients
2-12 oz. French cut green beans thawed
1 can cream of mushroom soup
French onions
Pepper
Mix all green beans, soup, pepper, and 1/2 cup French onions together. Cover and bake in a casserole dish at 350 degrees for 35 minutes.    For the last 5 minutes, place another ¼ c of French onions on top and bake uncovered.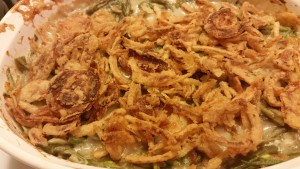 Featured image: Green Bean Casserole with Cranberry Pecan Stuffing and Roasted Chicken- Parsley, Sage, Rosemary, and Thyme