This is an easy soup that can quickly be thrown together for a weeknight dinner.  Using seasoned ground turkey cuts the fat and preparation time without compromising flavor.  The only complaint was that there were not enough meatballs!  So if you like your vegetable soup more meaty, just add more Italian seasoned ground turkey.
Ingredients
I small onion diced
2 potatoes diced
2 carrots chopped
2 celery stalks chopped
1 zucchini sliced
4 garlic cloves minced
2 (14.5 oz.) Cans Italian style stewed tomatoes
1 (15 oz.) can cannellini beans, drained
1 lb. Italian seasoned ground turkey
4 cups water
1 tsp beef bouillon
1 c. barley (optional)
In a large stock pot, add onion and garlic and 1 T water and heat to medium.  Add potatoes, carrots, celery, zucchini, tomatoes, beans, water, and bullion.  Heat to a low boil.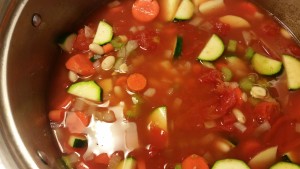 Roll turkey into meatballs about 1-inch in diameter.  Drop meatballs into the soup.  Simmer for 25 minutes.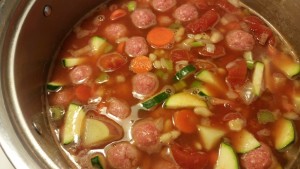 Prepare barley in a separate pot.  Bring 2 cups of water to a boil.  Add barley.  Reduce heat to simmer and cook for 45 minutes.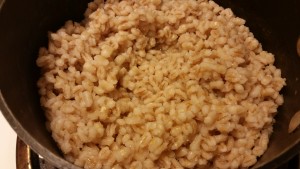 Spoon barley into a soup bowl and cover with soup.  Do not add the barley to the soup unless you will finish the soup in one sitting.  The barley will soak up the broth and your leftover soup will be less brothy
.
Makes about 8 servings.