Ingredients
2 cups Pea pods
1 can Baby corn
1 can Water chestnuts
1 small onion, cut into strips
1 Yellow pepper, cut into strips
1 Red pepper, cut into strips
Extra firm tofu
Lawry's sesame marinade
Cut tofu into bit sized cubes.  Pour half the marinade over the tofu and refrigerate for 4 hours.
Drain the tofu reserving the sauce.  In a large skillet, fry tofu o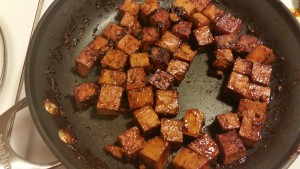 ver medium heat until edges are firm and crispy.  Remove tofu from heat and Set aside.
In same pan, add onion, peppers, pea pods, Baby corn, water
chestnuts, reserved marinade and remaining marinade.  Stir to combine and cook uncovered until veggies and soft, about 20 minutes.  Stir tofu into vegetables.
Serve over rice.