This is a very simple soup to make with lots of flavor and a medium amount of heat due to the green chiles.  If you prefer a milder version, substitute with regular diced tomatoes.  Conversely, if you prefer a hotter version, add a diced jalapeno.  Also, this is a gluten-free recipe because the meatballs do not have bread crumbs.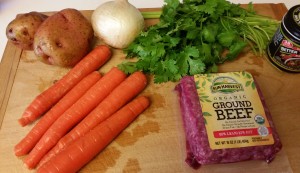 Ingredients
6 c water
5 carrots, sliced
2 potatoes, diced
1 onion, diced
1 can (14.5 oz.) diced tomatoes with green chiles
2 t better than bouillon beef flavor
1 pound ground beef
½ t paprika
½ t garlic powder
½ t onion powder
½ t cumin
Pinch of salt
Pinch of pepper
Bunch of cilantro, chopped
In a large stock pot, combine water, carrots, potatoes, onion, tomatoes with green chiles, better than bouillon, and half of the cilantro.  Bring to a boil.
To make the meatballs, combine ground beef, paprika, garlic,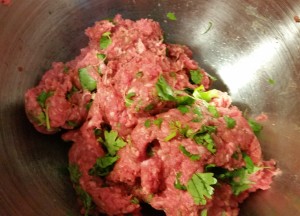 onion, cumin, salt, pepper, and the other half of cilantro.  Form into 1-inch balls and drop into the boiling soup.  Reduce heat to a simmer.  Cook until the meatballs are no longer p ink and vegetables are tender.