Ingredients: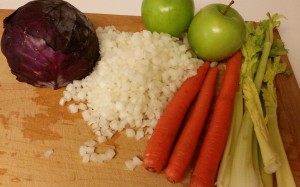 2 c diced onion
1 T oil
2 lbs beef stew meat
2 T minced garlic
3 carrots chopped
1 c celery chopped
1 small head red cabbage shredded
1 Granny Smith Apple, diced
4 c water
4 t beef bouillon
1 bay leaf
1 T parsley
1 T caraway seeds
2 t dry mustard
2 T red wine vinegar
4-6 potatoes, mashed
1/4 c butter
1/4 c milk
Salt and pepper to taste
Heat oil in a large soup pot. Add onion, garlic, and meat. Cook until onions are transparent and meat is browned. Add celery, carrots, cabbage, Apple, water, beef bouillon, bay leaf, parsley, caraway seeds, mustard, and red wine vinegar. Stir. Bring to a boil. Reduce heat and simmer for 1-4 hours.
Prepare mashed potatoes:  peel and cut potatoes into quarters.  Place in a pot, cover with water, and boil for 20 minutes or until potatoes can easily be poked with a fork.  Drain water. Add butter and milk.  Mash to a smooth consistency.
To serve, place a scoop of mashed potatoes in the bottom of a bowl;  add stew on top of potatoes.  Add salt and pepper to taste.
Alternative:  The mashed potatoes add a creamy texture to the soup.  If you prefer a standard stew consistency, then chop potatoes into pieces and add them to the stew with the other ingredients.  The potatoes will soak up spices as the stew cooks, so you may need to add more spices.  Taste periodically and adjust accordingly.