Ingredients:
Cake:
1 box French vanilla cake mix
1 cup water
3 eggs
1/2 c oil
Red and blue food coloring
Buttercream Frosting:
1 lb box powdered sugar
1 stick butter- softened
1/4 c milk
1 t vanilla extract
Preheat oven to 350 degrees and place cupcake wrappers into muffin tin.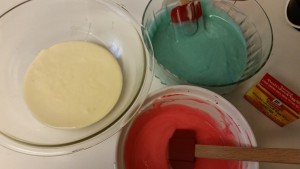 Combine cake mix, water, eggs and oil in a mixing bowl. Beat until smooth. Divide the batter into three equal portions (about 1-1/3 c each). Dye one portion blue, one portion red, and leave the third white. Spoon 1 level tablespoon of blue batter into each cupcake. Giggle pan so batter spreads out to cover the bottom of the wrapper. Then spoon 1 level tablespoon of white batter on top of blue batter. Last, spoon 1 level tablespoon red batter on top of white batter.
Bake for 12-18 minutes. Allow cupcakes to cool completely before frosting.
Buttercream Frosting: Beat sugar, butter, and vanilla in a medium bowl. Add milk slowly until desired consistency is achieved. Spread 1-2 tablespoons of frosting on each cupcake. Decorate as desired.