This potato salad is "dirty" because some of the skins are left on and the paprika tints the dressing, not because there is soil in the salad or because the potatoes are a little frisky.
Ingredients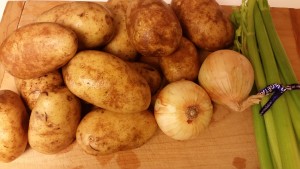 12 russet potatoes
6 celery stalks, diced
2-1/2 c onion, diced
2 c mayonnaise
2 t black pepper
1 T salt
3 T white vinegar
1/4 c relish
1 t paprika
1 T prepared mustard
Scrub potatoes. Lazily peel potatoes leaving some of the skin intact (save skin for potato skin chips). Dice potatoes into bite sized pieces.
Place in a large pot, cover with water and boil for 20 minutes or until a fork can pierce the potatoes easily. Drain and let cool completely.
To cooled potatoes, add celery and onions. In a separate bowl, mix together mayonnaise, pepper, salt, vinegar, relish, paprika, and mustard. Pour dressing over potatoes. Stir to coat and let sit for a few hours or overnight.