Ingredients:
Crust:
1 egg
3 T granulated sugar
1 pinch salt
1 ½ cups wheat flour
½ c butter, cut into 1/2 –in squares
Preheat oven to 400 degrees F. Grease 9-inch pie pan.
In one small bowl, mix together egg and sugar.  In a food processor, combine salt and flour.  Pulse a few times to mix.  Add butter, and pulse a few more times to cut in the butter into the flour.  Add the egg mixture and pulse into a smooth ball.  The dough will be soft.  Place the dough into the refrigerator or freezer for about 15 minutes to stiffen.
On a floured cutting board, roll the dough to 1/8 inch thickness.  To transfer the dough to the pie pan, roll the dough loosely around the rolling pin.  Gently press the dough into the pan and prick the edges and bottom with a fork.  Note:  soft pastry dough is difficult to roll out because it will stick to your surface and rolling pin.  Cooling the dough stiffens the butter and makes it easier to work with.  If the dough starts getting too soft and brittle put it back in the refrigerator for
a few minutes.  An option to avoid rolling is to press the dough directly into the pie pan.
Bake in the oven for 20 minutes.  Cool before filling.
Filling:
2 pounds fresh strawberries
¾ c sugar
3 T cornstarch
½ cup water
3 T chocolate sauce
Spread chocolate sauce over the bottom of the pie crust.  Cut strawberries in half.  Arrange the prettiest ones in the pie shell in two layers.  You will use about ½ of the strawberries in the shell.  Remove the top layer and set aside.
Mash t he remaining strawberries.  Combine mashed strawberrie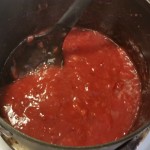 s and sugar in a saucepan.  Bring to boil over medium heat stirring frequently.  Dissolve the cornstarch in water and gradually pour into the boiling strawberry mixture stirring constantly.  Reduce heat and simmer for about 2 minutes or until the mixture has thickened continue to stir constantly.  Pour ¾ of the mixture into the pie pan up to the top of the strawberry layer.  Carefully add the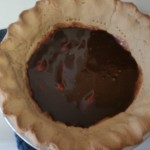 second layer of strawberry halves back to the pie and pour the remaining mixture on top.   Chill for several hours before serving.  Serve with a dollop of whipped cream or ice cream or by itself.