With St. Patrick's Day right around the corner, it is time to start thinking about corned beef and all the dishes to make with the leftovers.
Corned Beef comes in Flat Cut and Point Cut.  The point cut is less expensive, and contains more fat, but if cooked correctly the finished product will be juicy and not too fatty.
Corned beef is best when cooked slowly.  The meat will be tender and juicy.  Cooking too fast will toughen the meat.  Make sure you make enough for leftovers!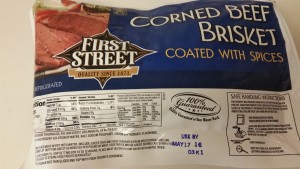 Ingredients
One corned beef brisket (flat cut or point cut)
6 cups water
Place corned beef brisket in a slow cooker with its juices and spice packet contents.  Cover with water.  Turn slow cooker on low and cook for 10 hours.
Remove from broth.  Allow meat to cool slightly and juices to settle before cutting.
Cut into slices across the grain.  The roast may fall apart easily.