I picked up a jar of Primo's Gourmet Food Co. Thai Peanut
Sauce at Whiskey Flat festival in Kernville, CA.  They also sell online and at other street fairs in California.   Their sauce has a spicy kick.  I had not tried the peanut sauce before and was looking forward to making pad thai.  This recipe was so fast that I was able to whip up an entire meal after work in about 30 minutes.    Normally I would use fresh bean sprouts, but the local grocery store was out.  I used canned bean sprouts, and it can out fine.
Ingredients
1 13 oz. jar Thai Peanut Sauce (such as Primo's Gourmet Food Co.)
1 lb. boneless skinless chicken breast cut into bite sized pieces
13 oz. bean sprouts
1 bunch green onions, chopped
8 oz. rice noodles
1 cup peanuts
In a large skillet over medium heat, cook chicken until no longer punk.  Add bean sprouts, onions, and peanut sauce.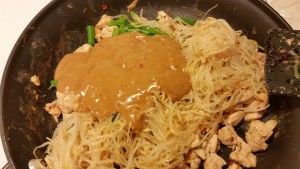 In a separate sauce pan, bring 6 cups of water to boil.  Add rice noodles.  Boil for 5-6 minutes until noodles are soft.  Drain and rinse.
Add noodles to chicken mixture.  Stir.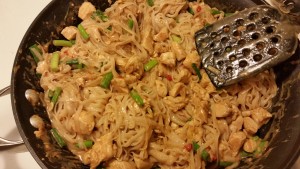 Top with peanuts.
Serve with salad and egg rolls.