I love Indian food.  It is so flavorful and creamy and decadent.  Indian food is one of the culinary regions that I have yet to tackle.  My favorite dishes are chicken tikka masala and palak paneer.  I have attempted to make both before.  The palak paneer came out great, but the chicken tikka masala was a bit too tomatoey.
The palak paneer utilized a spice package from the local international market.  This time, I wanted to try it without the packet.  The hardest part was finding some of the ingredients.  Plus many of the "from-scratch" recipes were different.  It was difficult to tell how to substitute spices.  In the end, I figured the dish would be great even if it didn't taste like the restaurant counterpart.
There are a few changes from traditional recipes.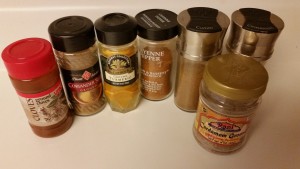 First, I prefer my spinach chopped rather than pureed.  To puree the sauce, place it in a blender before adding the paneer.  Second, I could not find some of the spices (like garam masala) in the store.  I used cardamom, cinnamon, and cloves as a substitute.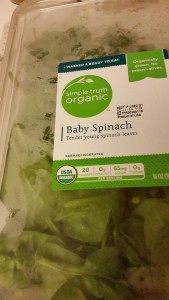 Ingredients
1 t turmeric
1/2 t cayenne
Salt
14 oz. paneer
6 c spinach leaves
1 medium onion chopped
1 t fresh ground Ginger
1 tomato chopped
4 cloves garlic, minced
1 green chili (serrano or jalapeno) chopped and seeds removed
1/2 cup cashews, finely chopped
2 t ground coriander
1 t cumin
1/4 t cardamom
1/4 t cinnamon
1/4 t clove
1/2 c plain yogurt
Finely chop the cashews and mix the spice: 2 t ground coriander, 1 t cumin, 1/4 t cardamom, 1/4 t cinnamon, and 1/4 t clove.
Combine 1 t turmeric and 1/2 t cayenne in a medium mixing bowl.  Cut the
paneer into bite sized cubes.  Add the paneer to the turmeric and cayenne and gently stir to coat.  Set aside in the refrigerator until ready to use.
In a large pot, combine chopped onion and garlic and 2 tablespoons of water.  Heat over medium; heat for about 10 minutes.  Add ginger, green chili, tomato, and cashews.  Add spices coriander, cumin, cardamom, cinnamon, and cloves. Add some water, about 1/2 cup.  Add spinach leaves.  Reduce heat to low and cook for about 30 minutes for the spinach leave to wilt.  If needed add more water 1 tablespoon at a time.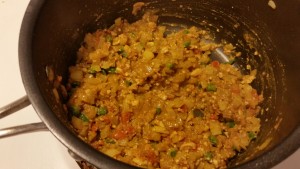 In a separate pan, brown the cheese.  Heat the pan over medium heat.  Spray with nonstick cooking spray.  Empty about 1/3 of the cheese into the pan.  Let the cheese cook on each side for about 2-3 minutes.  Place the cheese in the spinach mixture once all sides and browned.  Continue until all the cheese is browned and added to the spinach.
Serve with basmati rice and naan.
Pictured with Chicken Tikka Masala.