Chicken Tikka Masala, in my opinion, is one of the best dishes ever.  I like my chicken tikka masala with more of a creamy sauce; this is how it is served at my favorite local restaurant.  Many recipes just marinate the chicken and grill it.  Here the chicken is marinated overnight and then slowly baked in the sauce.
I have yet to replicate this recipe from scratch.  My first attempt was too tomatoey.  This recipe uses a store bought marinade.  The instructions on the package lead to the grilled chicken.  So I did not follow the directions provided and followed my own.
Ingredients 
2 boneless skinless chicken breasts cut into cubes
7 T Pataks Tikka masala marinade
1 c plain yogurt
1 small onion finely chopped
1 tomato chopped
1/4 c Half and half
Lemon juice
Combine marinade and yogurt in a large bowl.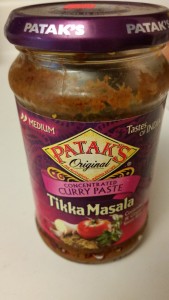 Stir until evenly mixed.  Add chicken.  Stir to coat.  Cover and marinate overnight.
Preheat oven to 300 degrees. Spray a casserole dish with lid with cooking spray.
Chop onion and tomato.  In a nonstick skillet over medium heat, brown the onion.  Transfer the onion to the casserole dish.  Transfer the marinated chicken and marinade to the casserole dish.  Top with diced tomatoes.  Cover and bake for 45 minutes.
Remove chicken from oven.  Stir.  Slowly add half and half.  Mix thoroughly.
Serve with basmati rice and naan.
Also pictured with Palak Paneer.