Ingredients
2 boneless skinless chicken breasts
4 c spinach broken into pieces
2 c cilantro chopped
1/2 onion, chopped
15 oz. can fire roasted diced tomatoes with juice
15 oz. Pinto beans drained and rinsed
8 oz. Pepper jack cheese
1 T chili powder
1/2 t garlic powder
1/2 t salt
1/2 t pepper
25 Corn Tortillas
28 oz. Red enchilada sauce
2 c cheddar shredded
Cook chicken.  Bring 1c water to boil. 
Place chicken into the pot.  Return to boil then reduce heat to simmer.  Cook for 1 hour.  Remove from heat.  Let cool.  Shred the chicken with a knife and fork.
Preheat oven to 350 degrees and prepare a baking dish by spraying with cooking spray.
Tear spinach into pieces and place into a large mixing bowl. Chop cilantro and add to the spinach.  Add chicken, onion, tomatoes, beans, pepper jack cheese, chili powder, garlic, salt l, and pepper.  Mix everything thoroughly.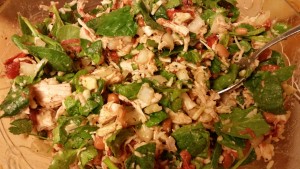 To wrap the enchiladas, you need to first heat the tortillas on the stove to make them pliable.  Cold corn tortillas with easily break.  Heat a skillet on medium low heat.  Place one tortilla in the skillet and warm on both sides for about 2 minutes.  When the tortilla is soft and bendable, place 1/4 c of the enchilada mixture into the center of the tortilla.  Roll the tortilla into a tube. Place the enchilada into the prepared baking dish.  Continue one enchilada at a time until all the filling is used.
Pour the red enchilada sauce on top of the enchiladas.  Sprinkle with cheddar cheese.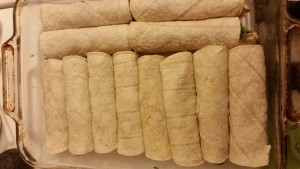 Cover with foil and bake in preheated oven for 45 minutes.

Serve hot with extra sour cream and/or avocado.