24 servings
As written, this recipe is for a potluck and will serve 24 people.  Unlike regular potato salad, Irish potato salad is less saucy and the potatoes are more mashed rather than cubed. To make this salad, I like to use a plastic masher that has diamond pattern instead of cutting the potatoes. This is the only time I like to use this type of masher.   If you don't have a plastic masher, you can cut the potatoes instead; it just takes longer.
Ingredients
5 lbs. New potatoes -drained and rinsed
5 celery stalks chopped
1 Vidalia sweat onion, finely chopped
4 hardboiled eggs. Chopped
1 cup mayonnaise
1 cup parsley chopped
1 c green onion chopped
2 T red wine vinegar
1/ 2 t salt ( or more to taste)
1/2 t pepper (or more to taste)
Mash/chop potatoes.   Cut the potatoes in half, then press down once with the masher.  The potatoes mash with large chunks that are still very soft.  Place potatoes into a large mixing bowl.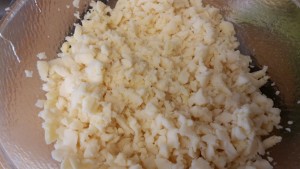 Add celery, parsley, sweat onion, green onion, and eggs.  Stir to mix
In a small bowl, combine mayonnaise and vinegar.  Whisk until blended.
Add to the potato mixture and stir to combine.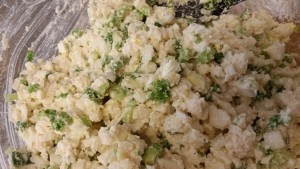 Add salt and pepper to taste.