20 servings
The recipe below is for a large group and will easily serve 20-25 people.
As opposed to mayonnaise-based coleslaw, this one is a sweet, honey-based coleslaw with fruit flavors.  The apple cider vinegar, apples, raisins and honey add sweetness to the cabbage and onions.
This is a great compliment to corned beef either as a plated lunch or sandwich.
Ingredients
10 cups shredded green cabbage (2 heads)
1/2 c shredded carrots
1 c shredded purple cabbage
2 Bramley or Braeburn apples
1 cup raisins
1/2 c honey
4 T apple cider vinegar
2 bunches od chives
1/2 t salt (or more to taste)
1/2 t pepper (or more to taste)
Combine green and purple cabbage, carrots, apples, and chives in a large mixing bowl.  Stir to combine
In a small bowl, combine honey and vinegar.  Whisk to blend.  Add raisins and salt and pepper.  Stir.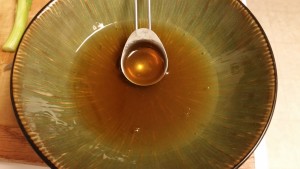 Add honey mixture to cabbage mixture and stir to combine.  Allow to set for an hour or so for flavors to mix.