If you are fortunate enough to have turkey leftover from Thanksgiving, this is a great recipe to use some of those leftovers. Of course, you may also use chicken as a substitute. The lightness of the lentils and flavors of curry bring a pleasant change to a rich and heavy winter diet.
Ingredients
1 cup chopped cooked turkey
6-8 cups turkey broth (or chicken broth) *
1 carrots chopped
1 celery stalks chopped
1 – lb. package green lentils
1 cup onion chopped
1 bay leaf
1 t curry powder
2 garlic cloves minced
1 T parsley flakes
Salt and pepper to taste
4 cups rice, cooked
Sirracha (optional)
Place broth, carrots, celery, onion, and bay leaf in a medium sauce pan.  Bring to boil over medium heat.  Reduce heat and simmer for twenty minutes.
Rinse and sort lentils.  Remove any rocks and foreign objects.
Add turkey, lentils, curry, garlic, and parsley to the broth. Simmer for another 15-20 minutes to soften lentils.  Add additional water if needed.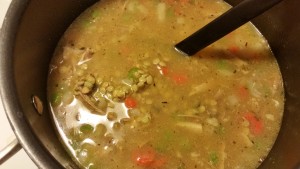 Add salt and pepper to taste.
Serve over rice with Sirracha.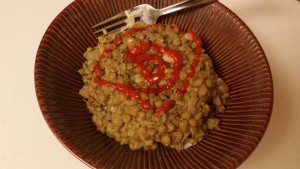 * to make the turkey broth from a turkey carcass and neck, place the bones and neck in a stick pot.  Cover with water.  Over medium heat, bring to a boil.  Reduce heat to low and simmer for several hours.  Strain broth.