A much healthier version of restaurant fried flautas.  The baked flautas are crispy and filling. I have become addicted to these.  I could have them every night.
Ingredients:
3 boneless skinless chicken breasts
1 c prepared salsa
1 c sour cream
1 c cilantro, chopped
1/2 sweet onion chopped
1/2 c pepper jack cheese shredded
Whole wheat tortillas
To cook the chicken, place the breasts in a pot with about 1/2 c of water and cover with a lid.  Bring water to boil.  Reduce heat and simmer for 30 minutes.  Check chicken for doneness. It should be white and no longer pink all the way through.  Using two forks shred the chicken.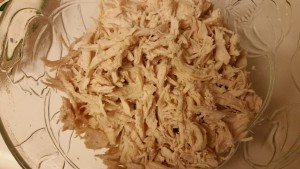 Preheat oven to 375 degrees.  Spray a baking sheet with nonstick cooking spray.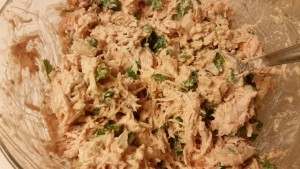 Transfer shredded chicken to a bowl.  Mix with sour cream, salsa, cilantro, onion, and cheese.
Spread about 1/2 c of chicken mixture in the center of a tortilla.  Shape it into a line down the center.  Fold one side of the tortilla over the chicken and roll into a tube.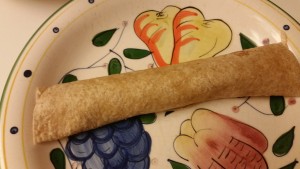 Place the rolled tortilla onto the baking sheet.  Spray with cooking spray.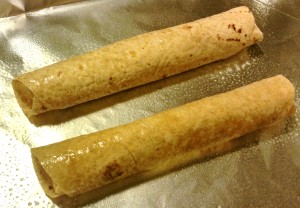 Bake for 10-12 minutes or until the flautas are a golden brown.
Serve with salsa, guacamole, and/or sour cream.
Place any unused chicken mixture into the refrigerator for up to one week.