This is a lighter and less fancy version of Thanksgiving stuffing: simply vegetables and bread cubes.  Because there is significantly less butter, this recipe is healthier than the original.
Ingredients
1 box Mrs. Cubbison's stuffing
1/2 onion finely chopped
1 carrot finely chopped
2 celery stalks chopped
1 T butter
2-3 cups chicken broth
Preheat oven to 350 degrees.  Prepare a baking dish by spraying with cooking spray.
In a medium sauce pan over medium heat, melt the butter.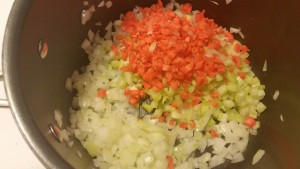 Add onions.  Stir and cook for about 2 minutes.  Add carrots and celery.  Stir and cook for 2 more minutes.  Add breadcrumbs and stir. Add chicken broth 1/2 cup at a time.  Mix thoroughly.  Add broth to desired wetness.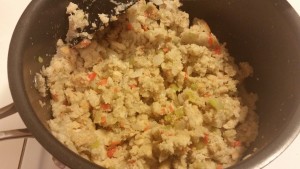 Transfer stuffing to the prepared baking dish.  Cover and bake for 30 minutes.  Remove cover and stir.  Spray the top with Pam and bake for an additional 10 to 15 minutes to brown the top.
Featured image pictured with Roast Turkey and Creamed Spinach.