This is the recipe I usually make for Thanksgiving.  It is lighter because I omit the cheese, but it still delivers on flavor.  Spinach is the first vegetable I was able to get Rich to eat.
Ingredients
10 oz. Package frozen cut leaf spinach, thawed
1- can cream of celery
6 green onions chopped
1 clove garlic minced
Salt and pepper to taste
Combine all ingredients in a medium sauce pan.  Stir and heat over medium heat.  Simmer for 15-20 minutes.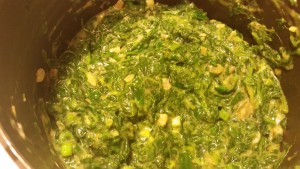 Featured image pictured with Roasted Turkey and Vegetable Stuffing.