Ingredients
1 lb. Salmon
2 T Cajun spice mix
2 c Romaine lettuce
1 T Parmesan cheese
¼ c Croutons (optional)
1 T Caesar salad dressing
Preheat oven to 350.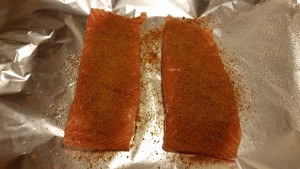 Place foil onto a baking sheet and spray with Pam cooking spray.  Place salmon into foil and sprinkle generously with Cajun spices.  Cover with another piece of foil, and crimp the edges of the foil together to make a pouch.  Bake for 20-25 minutes.
Arrange salad:
Lettuce, cheese, croutons, and top with salmon.  Drizzle with dressing.