This recipe is for a super healthy vegetable packed chili.  The pumpkin adds bulk without the calories of additional meat.  The pumpkin was prepared using a large "Halloween" pumpkin rather than a sugar pie pumpkin, but you can use any pumpkin you have including Libby's  pumpkin puree.  The larger pumpkin is less sweet and more squash-like than the smaller pie pumpkins.
Ingredients
1 lb. Organic Ground beef
2 c pumpkin
2 -15 oz. cans organic kidney beans
1 small onion finely chopped
1 green pepper finely chopped
1 jalapeno pepper finely chopped
1 – 28 oz. can diced tomatoes
1 T Chili powder
1 t Cumin
1 t Turmeric
1 t paprika
2 t garlic
2 t salt
1 t pepper
In a large stock pot over medium heat, brown the ground beef.  Mash the meat into small pieces with the edge of your spatula as the meat browns.
Add onion, green pepper and jalapeno pepper.  S
tir and cook for about 2 minutes.
Add kidney beans, pumpkin, and tomatoes with juice.  Add chili powder, cumin, turmeric, paprika, garlic, salt, pepper.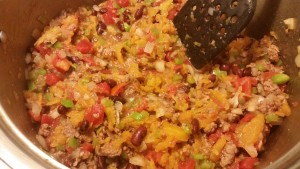 Reduce heat to low and simmer for about 3 hours.  The chili will become darker and juicier as it cooks.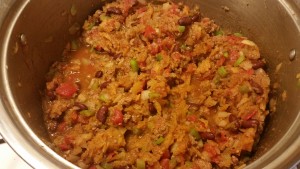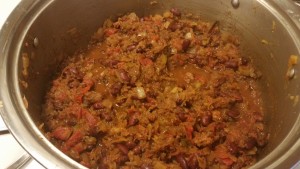 Enjoy with chips, cornbread, and/or sour cream.