Mashed potatoes are an American staple.  They are gluten-free and easy to make.  The best potatoes to make mashed potatoes are the brown russet potatoes.  They are the easiest to peel.
Ingredients
5 russet potatoes
½ -3/4 c milk
½ t salt
½ t pepper
2 T butter
Wash the outer skin of the potatoes.  Peel each potato and remove any deep eyes.  (Option, save the potato skins to make potato skin chips)
Cut the potatoes into 1-inch sections and place into a large stock pot.
Fill the pot with enough water to cover the potatoes.
Bring the water to a boil over medium heat.  Reduce heat and simmer for 20 minutes.  After 20 minutes, test the potatoes for softness by poking with a fork.  The potato should pierce and break very easily.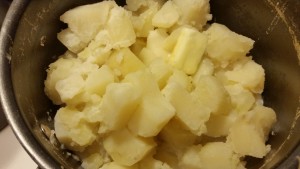 Drain the water.
Add milk and butter to the pot with the potatoes and mash.  Add more milk if you like smoother potatoes.  Add salt and pepper to taste.
Featured picture includes Vegetable Gravy and Pot Roast.