This is a great way to get picky eaters to eat their vegetables.  Cheese makes everything taste better.
Ingredients
1 -8oz. package frozen spinach
3 green onions or ½ c white onion chopped
½ t garlic powder
½ c queso fresco or parmesan cheese
1 T butter
Salt and pepper to taste
Place frozen spinach in a pot with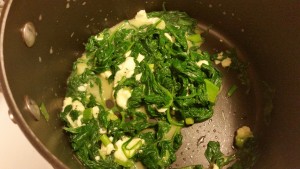 about ¼ c water.  Heat until spinach is no longer frozen, and drain the water from the pot.  Add onions, garlic, butter and cheese to the spinach.  Stir to mix evenly and heat until cheese is melted.  Add salt and pepper to taste.