The secret to an amazing split pea soup is the stock.  Pea soup is best
with a ham stock.  You can either make the stock separate by simmering a ham bone in 10 cups of water overnight, or you can place the bone directly into the soup and remove the bone before blending.
Ingredients
8 cups ham stock
2 cups split peas
1 small onion
2 carrot
1 celery stalk
2 potatoes
2 c ham
Salt and pepper to taste
Add all ingredients to a soup pot.  Bring to boil.
Reduce heat and simmer for 20-30 minutes for peas, potatoes, and carrots to soften.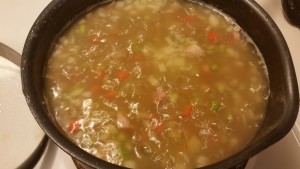 Using a handheld mixer or blender, puree the soup to desired chunkiness.