Pumpkin, lobster, and cheese pair well together.  But if you are not partial to seafood, you can substitute chicken for the lobster.  The sauce and tortellini are very filling and very rich in flavor, so don't serve yourself too much.  This recipe makes 6-8 servings.
Ingredients
1/2 c Onion diced
2 cloves garlic minced
15 oz. Ricotta cheese
2 cups pumpkin
5 oz. diced tomatoes
1 t cloves
1 t sage
1 t basil
1 t savory
1 t allspice
1 c white wine
½ t salt
¼ t black pepper
14 oz. Imitation Lobster
20 oz. Cheese tortellini
Parmesan cheese
Heat onion and garlic in sauce pan with a pad of butter. 
Cook until onions are translucent.  Add pumpkin, ricotta cheese, diced tomatoes, cloves, basil, sage, savory, allspice, white wine, salt, pepper, and lobster.  Simmer on low for 20 minutes for flavors to mix.
In a separate pot, boil water.  Cook tortellini as directed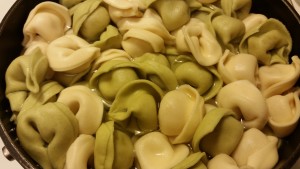 on package.
To serve, place tortellini in bowl or plate.  Top with lobster sauce and parmesan cheese.