This is a healthy way to appease the craving for french fries.  It does take some time, so you will need to fight the erg to run to McDonald's, but the taste is well worth the wait.  Cut the fries thinly so the cook through and bake on high heat for a crispy skin.  Watch them and check on the cooking periodically so they don't burn.
Ingredients
One large russet potato cut into strips (leave skin on)
Cajun spice rub*
1 T vegetable oil
Preheat oven to 400 degrees. 
Line a baking sheet with foil and spray with cooking spray.
Place the potato strips into a bowl.  Drizzle with oil and mix to coat. 
Sprinkle with spices and mix to coat.  I used a spice run from Big Cock Ranch called Special Sh**.  It is a blend of salt, pepper, seasoned salt, chili powder, garlic, and paprika.
Spread fries into a single layer onto the baking sheet.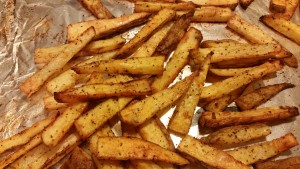 Bake for 1 hour.  Flip fries half way through baking.