Trick-or-treat!
I found this cake mix at Walmart, and figured I would give it a try.  It turned out a little time consuming, but it wasn't difficult.  The cake mix has two packages: one chocolate brown and the other vanilla white.  The white mix is divided into two and colored with purple and orange food coloring.
Ingredients:
1 Duff Halloween Scream cake mix
2 eggs
2 x 1/4 c oil
2 x 2/3 c water
Buttercream frosting
1 lb box powdered sugar
1/2 c butter softened
1/2 t vanilla
1/4 c milk
orange food coloring
Follow the directions on the box:
Preheat oven to 350 degrees.  Prepare cupcake pan by placing paper liners into each hole.

Allow cupcakes to cool completely before frosting.
To make buttercream frosting, mix all ingredients together except food coloring in a large mixing bowl.  Beat until smooth.  Add food coloring and mix until evenly colored.  If frosting is soft, place it in the refrigerator before frosting the cupcakes.  Buttercream frosting is sensitive to the temperature and can get melty in a hot kitchen.
Decorate as desired.  I used black frosting and little ghosts I found at Michaels.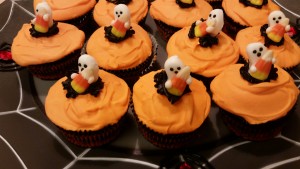 The cupcakes did not marbling as much as it shows on the box, but they still taste great.