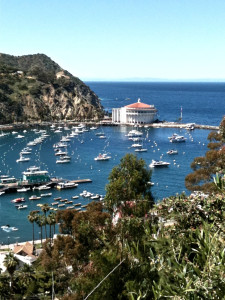 This past weekend I had the fortune of relaxing on Santa Catalina Island, which is a small 76 square mile island off the coast of Los Angeles. If you have never been to Catalina, you definitely need to check it out.
This trip the one-hour boat ride from San Pedro Harbor was quite
pleasant. Mild weather with only 2 foot swells. I spent the hour long journey playing games on my iPad and watching the water. There were no dolphins today, but dolphins are a common siting playing in the water off the bow.
Santa Catalina Island's is mostly preserved wildlife refuge with hundreds of miles of hiking trails. To hike, you need to pick up a hiking pass at the Conservancy. The main town is the City of Avalon, which is a cute little beach town surrounded by hills. There are lots of touristy activities like parasailing, zip-line, island tours, boat rides, golfing, golf cart rentals, shopping, swimming, etc. and a range of styles from the posh to beach bum.
I have been a frequent visitor to Santa Catalina over the last decade because of my job. There is a noticeable shift in the last few years to get rid of a lot of the charming old vintage buildings and replacing them with posh resort-style establishments. It is sad to see the place losing some of its charm, but I understand. The island's major source of income is tourism, and nostalgic beach bums like me don't have money to spend.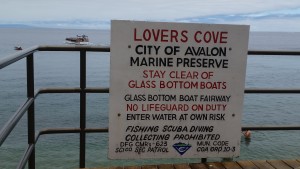 Since I have been here so many times, I already know how to avoid the crowds and don't have the incessant need to see everything. The majority of my activities are out of the way and inexpensive: snorkeling at Lover's Cove, bike riding around the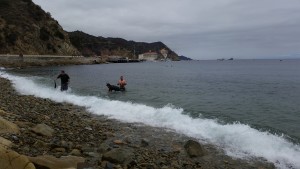 town and to the botanical gardens, and exploring the botanical gardens. We forgot the underwater camera this time and the eather was slightly overcast, but check out my boyfriend's snorkeling video on YouTube from a few years ago.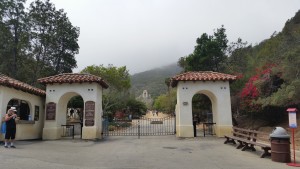 The botanical gardens are neat, but probably not what you
would expect. The gardens are mostly native island foliage which favors the Southern California desert variety of shrubs and succulents rather than an English rose garden. I have come to appreciate desert landscapes and native Californian plants. Unfortunately, I was a little too late for the spring blooms, but there were a few pops of color here and there
.
Within the garden is the Wrigley Memorial. The monument looks like a roman bathhouse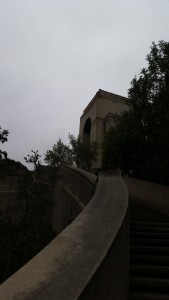 with beautifully elaborate tile work, and the view from the top is peaceful. It is a nice place sit and rest awhile to catch your breath. The botanical gardens are about a mile out of town with a slight uphill grade. I recommend taking the trolley, biking, or walking to the gardens so you have plenty of time to meander through the paths and explore the foliage.
I have been to most of the restaurants in Avalon, and there is a wide range of options even though there are just a handful of restaurants. The main strip is mostly Mexican restaurants, steak houses, and bbq joints. Down the side streets there is a diner, Chinese restaurant, bakery, pizza, and more. One of my favorite places is the Buffalo Nicke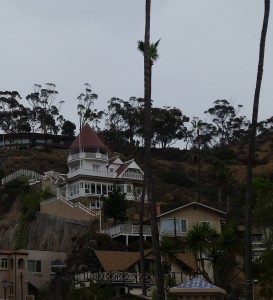 l. It is hard to find, and if you don't know about it, you won't find it. The Buffalo Nickel is not in the main part of Avalon. The Buffalo Nickel is next to the helicopter pad, and you have to call a shuttle to get there. This reclusiveness is one of the reasons I like it. It is usually not too crowded. You can have a conversation with your party without having to yell over the background noise. Metropole plaza has a nice sandwich shop with outdoor patio seating. On weekends live entertainment sets the mood of relaxation.
One weekend is not enough time to explore all the island has to offer. Even as a frequent visitor I haven't done everything. There is always a reason to come back; after all it is only an hour away by boat. Until next time, happy sailing.