Every year I bake at least half a dozen pumpkins during the fall to use through the following year.  The small sugar pumpkins are used for sweets and baking, and the large "Halloween" pumpkins are used for soups and stews.  Yes, you can bake and eat a Halloween pumpkin too.  Just don't eat it after it has been sitting around as a jack-o-lantern.
One sugar pumpkin will make about 4 cups of pumpkin puree, and a large pumpkin will make about 8 (size dependent).
Ingredients
Preheat oven to 350 degrees.
Cut pumpkin in half.  Pierce the outer skin on the rind with the tip of a sharp knife and cut a slit.  Using that slit, work the knife around the rind until the pumpkin is cut in half.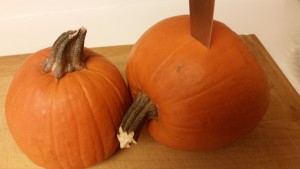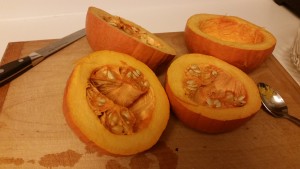 Using a large spoon, remove the seeds and stringy flesh from the inside of both halves.  It is easiest to scrape along the inside of the rind.  Throw away the inside gunk.  If desired, retain the seeds to make roasted pumpkin seeds. (Placed rinsed seeds in the refrigerator until you are ready to roast them).
Place a sheet of aluminum foil on a baking sheet and spray with non-stick cooking spray.  Place each pumpkin half cut side down onto the sheet.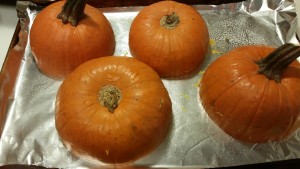 Place into the oven and bake for 1 hour.  Test for doneness by poking with a fork.  The fork should easily enter the pumpkin.  The pumpkin should look "collapsed in the center".  (note: larger pumpkins will take longer.)
Remove from the oven and let cool.
Using a large spoon, scrape the inside of the pumpkin from the skin of the rind.  The pumpkin should come off very easily.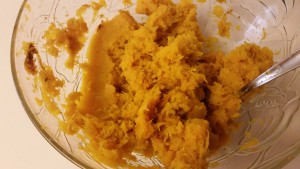 To make pumpkin puree, place the pumpkin flesh into a food processor and process to desired smoothness.
Refrigerate until ready to use. Or freeze for up to one year.