I have not had ramen in a long time.  In fact, the last time was in New York at a little place in Astoria Queens.   Other than at that restaurant, the only ramen I had ever had was "Top Ramen", which isn't a fair comparison.  The restaurant version was packed with vegetables, meat, egg, and fish cake, and it was far superior to the stove top version made at home for about ten cents.   I was looking for a quick lunch, and had a package of Top Ramen left over from an unmade batch of ramen cabbage salad.  Of course ramen soup just out of the package is boring and lacks pizzazz, so it needs a little added extra to make a meal.  I decided to attempt to rival the NY restaurant by adding broccoli, egg, chicken, celery and onion.  For an inexpensive soup, this was really good.  I was pleasantly surprised, and I will definitely make this again.
Ingredients
One package of chicken ramen with spice packet
2 cups water
1 celery stalk chopped
1 green onion chopped
2 broccoli spears
1 egg
1/2 can chicken
Place water, celery, onion, and broccoli into a pot.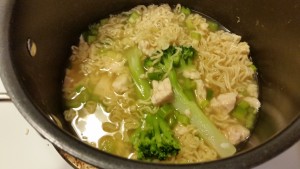 Bring water to boil.  Add ramen noodles and chicken.  After noodles are soft, but not fully cooked, (about 2 minutes) add egg.  Do not stir; allow the egg to cook undisturbed in the boiling water.  Continue to boil for another 2 minutes.
Pour soup into a serving bowl.